ALL MEAL DELIVERY 40% OFF 
Some Condition May Apply

Chef Manny's World of Gourmet Catering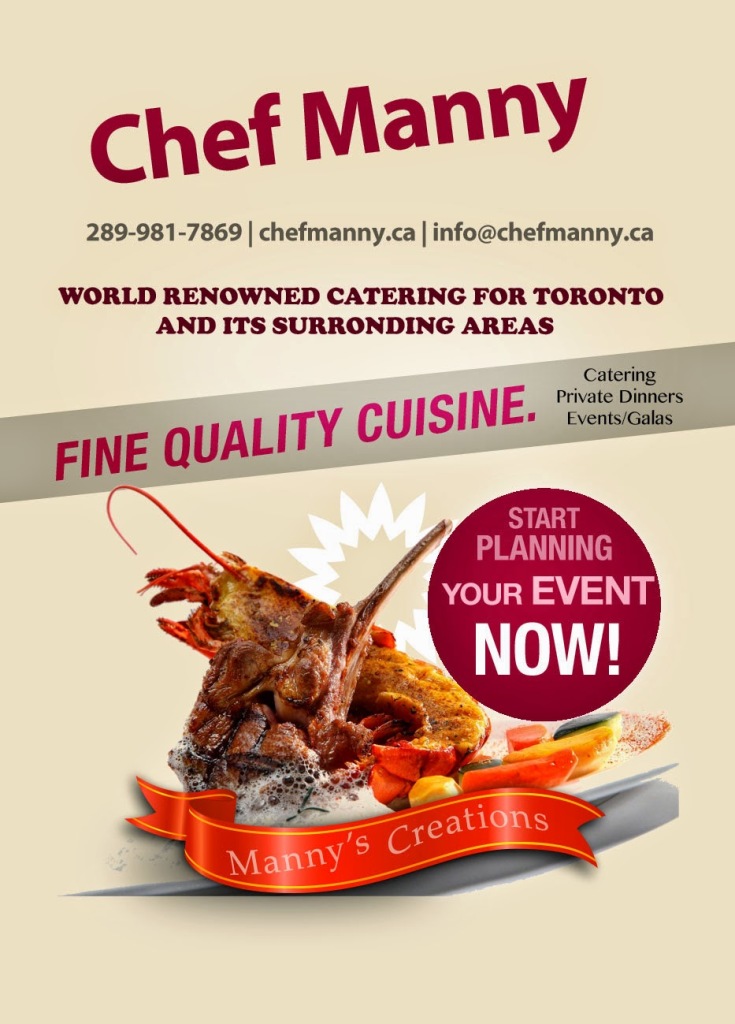 Chef Manny specializes in catering for all your events and occasions. We are a versatile team that will adapt and create a unique dining experience that your guests will enjoy and treasure for a very long time. Operating out of Toronto, Ontario we are able to serve the Golden Horseshoe area and beyond.
Our gourmet catering includes a wide array of services. We can create an elegant five-course meal for hundreds of guests at the venue of your choice. If you wish to head a separate route, we can come to you. Do you fancy a world-class chef making a private dinner for you and your guests to enjoy in the comfort of your own home? Start deciding on whom you would like to invite, with Chef Manny the possibilities are endless!

"We have re-defined Toronto Catering! We put the Gourmet in Gourmet Catering. After experiencing the Chef Manny experience you won't be left disappointed."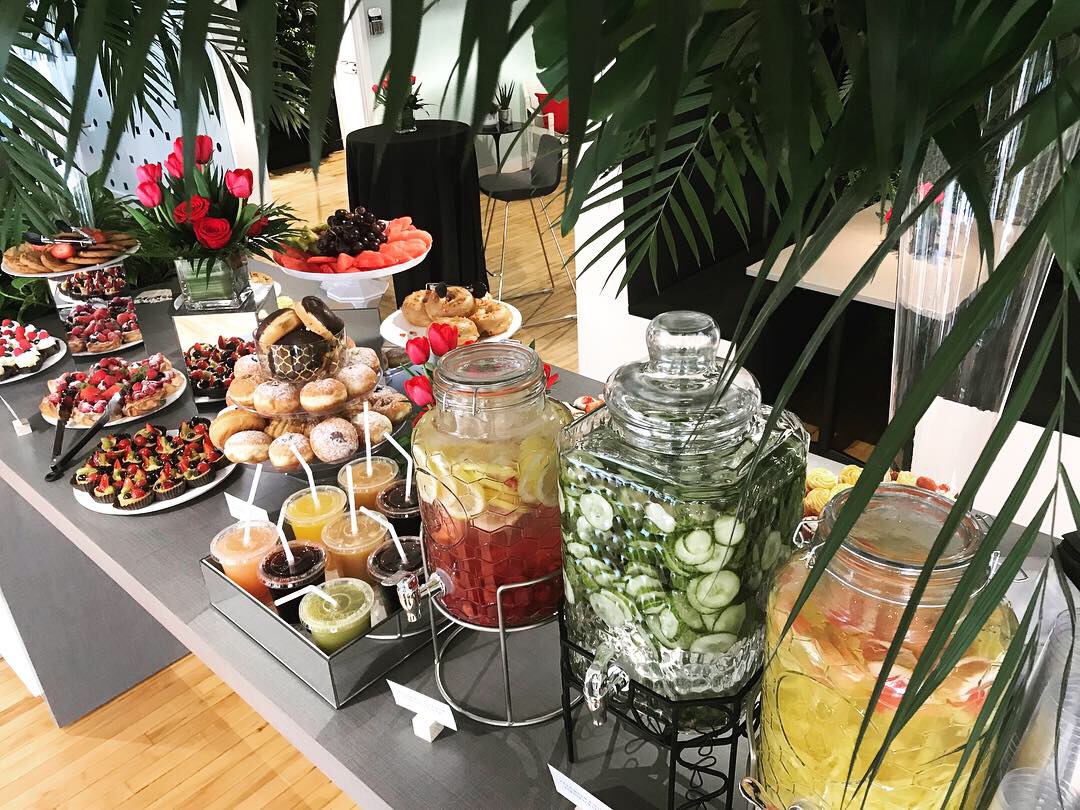 Servicing the Toronto, Ontario area for the past ten years, Chef Manny has never left an event in which his fine attention to detail went unnoticed. Majority of our events come through our referrals, can you blame them? Once they try Chef Manny, they don't look at food the same.
Contact us now and discover why we are the number one (1) choice for business, organization and family events within the Toronto area. 
"Birthdays, Weddings, Barbecues, Cocktail Parties, Corporate Events, Grand Openings, In Home Events, Private Chef, Charitable Events, Party Platters we do it all."

Hire a Private Chef
Ever wanted to wow your close-knit circle of friends with a dinner experience of a lifetime? With Chef Manny you can make that dream a reality. Chef Manny can turn your gourmet kitchen into a 5 star restaurant!
With a focus on cleanliness, using only the finest ingredients, and paying fine attention to detail; Chef Manny is able to deliver a gourmet cuisine experience at the comfort of your own home.
Our private Catering options vary on request. Please contact us for answers to your inquiries within a 24 hour basis.

TESTIMONIALS
See below our testimonials and view our numerous professionally catered events who have found our experience to be second to none.

"Hi Chef Manny,
Thank you thank you thank you for such a wonderful evening you created for our guests. You made my husband's 50th birthday an extremely special one, and exceeded our expectations.
Your culinary art and expertise was remarkable. From your hors d'oeuvres to salad, main course and dessert –
everything was absolutely delicious and so beautifully presented. Our guests were so impressed. Everyone commented on how amazing the food was. I can't thank you enough, this was the most wonderful experience. You truly created a meal we won't soon forget. We wouldn't hesitate to recommend you to anyone and look forward to having you cook for us again in the future.

With Sincere gratitude"
"Dear Chef,

On behalf of my wife, I would like to extend my sincerest gratitude for making my son's baptism extra special.

There was not one person who I spoke to that day who did not express their appreciation for your food.

This is now my second time experiencing your menu and culinary art and you have not disappointed.

Personally, the halibut was exquisite!

I will most certainly keep you top-of-mind for any time we need professional and exceptional catering.

If you need, I would be more than happy to act as a reference or testimonial for any future catering business you attract.

I wish you a joyous and peaceful Christmas Season.

Sincerely"
"Thank You !! Thank You !! Dinner on Saturday night Emmanuel was fantastic!! Once again you created your magic and we so appreciate it! Everyone is still raving about how delicious everything was – from the appetizers right to the "gold" dessert. I hope you weren't too too late for your own party – we really appreciate you accommodating us even though you did have a conflict! Hope to see you soon – and once again – many many thanks!! Warmest Regards"
"Having you as the chef for Girl's Nite with 8 women at my place was truly a treat Manny. It was a first time for myself doing this. You were very professional by showing up on time, explaining everything we were eating, preparing, serving and cleaning up every last bit of mess! The food was great, especially the main course! We all had a wonderful experience and I will recommend you to my family and friends for sure!!"
"Dear Chef Manny;
Thank YOU, thank you, thank you for another truly wonderful evening!  You are the best and we so appreciate your talents and all your help. Hoping to have another dinner party for you to craft sooner than later,"
Caroline and Errol
"We had a great time. Thank you for a night of great food and great service. You did an amazing job. May God  richly bless you and your family. Hope you made it to your family on time last night." Blessings, Debbie
"Hi Emmanuel, Brenda and I very much enjoyed the dinner that you prepared for us last Friday evening at Bohdan's place on Mississauga Rd. We look forward to an opportunity this Fall for you to create a dinner for us at our place, Greg / Brenda"
"Dear Chef Emmanuel, I can't thank you enough for last night's dinner party. It was spectacular and the birthday guests felt very special, indeed. Even David, who can be a fussy eater, really enjoyed everything! You made me feel like a guest in my own home so that I could enjoy the party as well. I hope that you might get some business from our guests who were very impressed. Say hi to Isabel and John and we will be in touch." Sincerely, Jackie
"All I can say is thank you for the worry-free evening and all of the great food. My guests were so wowed I have a feeing I will see you again. Thanks again," Melody
"Hello Emmanuel, it was a pleasure to meet you yesterday. I just wanted to say thank you so much for an absolute wonderful evening, the food (and service) was fantastic, and we've received many great comments from those who attended. (…) I look forward to connecting with you again at any future events that we may have."

 (289) 981-7869